New Investment – Open Payments Europe
We are happy to announce our new investment, Open Payments Europe. They provide a a single, open and secure API, compliant with PSD2, to access all banks throughout the EU.
PSD and Open Banking is a huge opportunity, and also a challenge
The EU's new legislation on payment services (PSD2) will improve the security of Internet payments and give consumers more power over who controls their money – but are you prepared to take advantage of this new competitive landscape?
Developers and merchants face the challenge of building platforms that can integrate with more than one bank. But why build multiple customized solutions when there is one API that will work for everyone?
If you're a 3rd party application provider, it will help get you to market faster. If you're a merchant, our API will help you lower transaction costs.We can even help banks address any compliance issues preventing them from being ready in time. Open Payments solves the integration hurdles of PSD2 with a single easy-to-use API.
The Solution is Open Payments Platform
The PSD2 compliant single-API platform that does the integration for you. Access multi-bank APIs throughout the EU with one single-API.
No need to integrate with all different Bank APIs and keep track of updates and changes. Use our standardised API with multi-language SDKs and samples.
The Future Platform for Open Banking infrastructure
Based on state-of-the-art new technology to take advantage of the current business business opportunities, like AI and Blockchain.
Access PSD2 profiles as an Account Information Service Provider (AISP) and/or an Payment Initiation Service Provider (PISP) to create your apps and services.
Use our existing web shop modules and personal financial management (PFM) modules for instant payments and account aggregation.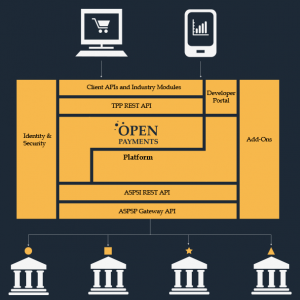 Posted in Uncategorized